Caribbean Postcard
Caribische jazz met een kronkel

De Caribische eilanden en kusten herbergen een schat aan oude melodieën. Soms weemoedig en nostalgisch dan weer feestelijk, jubelend en bruisend.
Venezuela, Jamaica, Nicaragua, Trinidad, de Nederlandse Antillen, Cuba, Colombia en Puerto Rico; een selectie van de mooiste pareltjes afkomstig uit deze contreien is nu bewerkt en opgenomen door de nieuwe jazz 4tet bezetting van drummer Lucas van Merwijk.
Geen typisch drumalbum met technisch of ritmisch machtsvertoon of danskraker. Destemeer een hartelijk, persoonlijk en klein muzikaal berichtje vanaf de West Indies uitgevoerd door een aantal geestverwanten met een gedeelde liefde voor dit specifieke repertoire.
Dit gelijkgezinde gezelschap bestaat naast drummer Van Merwijk uit bassist Samuel Ruiz, pianist Norman Peplow en trombonist Ilja Reijngoud.
Hoes tekening door Wim Janssen. Grafisch ontwerp door Tom Beetz Foto door Maren Kips.
Het album komt niet op de streaming diensten en is alleen te koop via de site (fysiek en digitaal).
www.tamtamproductions.nl www.lucasvanmerwijk.com
Luister hier naar een sample: https://soundcloud.com/lucasvanmerwijk/teaser-van-merwijks-music-machine-album-caribbean-postcard
Lucas van Merwijk wordt internationaal erkend voor zijn drumwerk met grote latin bands als Nueva Manteca en the Cubop City Big Band. In de nieuwe editie van zijn Music Machine zocht hij een intiemere setting en vond pianotalent Norman Peplow om te participeren. Samen met Thelonious Monk Award winnaar Ilja Reijngoud op trombone en de Venezolaanse topbassist Samuel Ruiz op de bass geven ze een eigenzinnigedraai aan het rijke Caribische muziek repertoire.
Lucas van Merwijk | Drums, Ilja Reijngoud | Trombone, Samuel Ruiz | Bas, Norman Peplow | Piano
Courant of The Hague:
'Ilja is a master in sounds, his fabulous technique always supports his search for beautiful melodies and improvisations'
Jazzprofiles.com:
'Lucas van Merwijk is one of the great drummers of our time. He lays down so much good stuff that even the eyes of a trained drummer can't catch it all'
---
featured video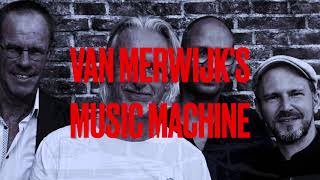 Van Merwijk's Music Machine | Caribbean Postcard | 30 second album teaser