Caribbean Postcard
Caribbean jazz with a twist
The Caribbean islands and coasts are home to a variety of ancient melodies that range from melancholic and nostalgicically to festive and joyous.
This new jazz 4tet, consisting of drummer Lucas van Merwijk, bassist Samuel Ruiz, pianist Norman Peplow, and trombonist Ilja Reijngoud, have selected and recorded a collection of these beautiful melodies from countries such as Venezuela, Jamaica, Nicaragua, Trinidad, the Dutch Antilles, Cuba, Colombia, and Puerto Rico.
This album is not a technical or rhythmic display of drumming prowess or a Latin dance-cracker, but rather a heartfelt and humble musical tribute to the West Indies by a group of musicians who share a love for this specific repertoire.
The cover art for the album was created by Wim Janssen, with graphic design by Tom Beetz and photo by Maren Kips.
www.tamtamproductions.nl www.lucasvanmerwijk.com
Listen to a sample of the album here: https://soundcloud.com/lucasvanmerwijk/teaser-van-merwijks-music-machine-album-caribbean-postcard
Lucas van Merwijk is a highly regarded drummer who has played with notable Latin bands such as Drums United, Nueva Manteca, and his own Cubop City Big Band.
For the new edition of his Music Machine, he wanted to create a more intimate setting and invited Norman Peplow, a talented pianist, to join him. Ilja Reijngoud, the recipient of the Thelonious Monk Award for trombone playing, and Samuel Ruiz, a top Venezuelan bassist, are also performing on baby bass. Together, they bring a unique twist to the vibrant Caribbean music repertoire.
De Volkskrant: Quotes:
Courant of The Hague:
'Ilja is a master in sounds, his fabulous technique always supports his search for beautiful melodies and improvisation
Jazzprofiles.com:
'Lucas van Merwijk is one of the great drummers of our time. He lays down so much good stuff that even the eyes of a trained drummer can't catch it all'
---
featured video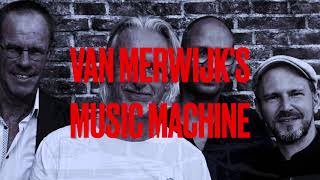 Van Merwijk's Music Machine | Caribbean Postcard | 30 second album teaser