Gianna Tam
The queen of percussion and vocals!
Gianna Tam & La Banda
Gianna Tam & La Banda! Ze zijn op oorlogspad en klaar om elk festival en podium te laten exploderen met hun vernieuwende mix van Latin stromingen als Zouk, Reggeaton, New York Salsa met eigentijdse pop en hip-hop Beats.
Deze live formatie, geleid door de talentvolle percussioniste, zangeres en drumster Gianna Tam, weet hoe ze elk publiek tot een climax moet laten komen met hun vurige percussie-ritmes en grooves.
Dit alles samengesmeed door de meest toonaangevende internationale Latin producers, arrangeurs en musici van dit moment.
Na haar gastoptredens bij bekende artiesten als Ladies of Soul, Candy Dulfer, Jett Rebel, Arp Frique, Sven Hammond en Trijntje Oosterhuis is Gianna nu klaar om haar eigen band te gaan knallen.
Dit is een spektakel dat je niet mag missen! Laat je uitdagen door de krachtige line-up van Gianna Tam & La Banda en beleef het op jouw festival of podium.
Line up:
Gianna Tam (zang/timbales) | NL/Suriname
Urvin Doornkamp (drums) | Suriname
Samuel Ruiz (bass) | Venezuela
Laura Beatriz (keys) | Cuba
Sophie Anglionin (keys) | NL/Martinique
Erik Larrea (percussion) | Spanje
Chucky Cordero (trompet) | Venezuela)
Gianna Tam
Tell me more...
Je ziet niet vaak een vrouw zowel drums als percussie speelt en bovendien net zo makkelijk de lead vocals voor haar rekening neemt. Het is dan ook niet gek dat Gianna vaak "De Nederlandse Sheila E" wordt genoemd.
Gianna groeide op in een omgeving met veel creatieve, artistieke en muzikale mensen en mede hierdoor kwam haar liefde voor muziek al op jonge leeftijd naar voren.
Gianna Tam begint op haar 16de mee te spelen in de verschillende projecten van haar vader drummer Lucas van Merwijk. Hiermee toert ze in Nederland, Zuid Amerika, Azië, de Verenigde Staten, Canada en Europa.
Tijdens haar muzikale carrière werkt Tam met artiesten als Candy Dulfer, Jett Rebel, Shirma Rouse, Edsilia Rombley, Trijntje Oosterhuis en The Ladies of Soul en zingt ze met het Metropole Orchestra onder leiding Vince Mendoza.
Tijdens haar studie aan het conservatorium kwam naast haar drum en zangtalent ook haar aanleg voor songwriting naar voren hetgeen resulteerde in een tweetal albums, 'Make Me Smile'en 'Polyphonic Heroine' en meerdere singles.
---
featured video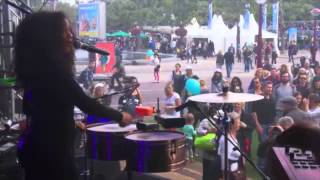 Gianna Tam Live