Drie vrouwen, drie continenten, één passie…
DRUMS!
Beat The Kitchen, een nieuwe percussiegroep met drie vrouwelijke top-percussionisten uit drie verschillende wereld delen Europa, Azë en Zuid Amerika.
De tijd dat slagwerk uitsluitend een mannelijke aangelegenheid was behoort voorgoed tot het verleden.
Dit bewijzen de dames van Beat The Kitchen met een schitterend percussieconcert waarin ritmes en percussie instrumenten uit de hele wereld samenkomen.
Westers slagwerk, spectaculaire Japanse Taiko drums, Cubaanse conga's en timbales, elektronische drums en een keur aan bijzondere nieuwe percussie instrumenten worden op originele wijze gecombineerd.
De drie slagwerksters voelen elkaar tot in de finesses aan en beschikken ook nog eens over een flinke dosis energie, een sublieme techniek en uiterst aanstekelijk spelplezier.
Met indrukwekkend, verassend, boeiend en spetterend slagwerk leggen de meiden menig mannelijke collega drummer het zwijgen op.
Bezetting:
Gianna Tam (Suriname) drums, percussie en vocals
Femke Krone (Nederland/Letland) percussie en vocals
Ryoko Imai (Japan) percussie
---
featured video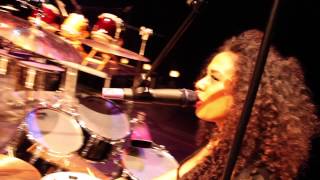 Beat The Kitchen