Percussion für Kids
Knallen!
Mit ihrem ersten Programm 'The Power of the Drum' hat das Ensemble mehr als 120 Shows in niederländischen Theatern, Schulen und Festivals aufgeführt! Jetzt ist es Zeit für ein neues Programm: Knallen!

In dieser neuen energiegeladenen und faszinierenden Performance werden die vier 4Beat-Percussionisten jungen Zuschauern Schlagzeug und Musik aus vielen Ländern der Welt vorstellen. Natürlich haben sie eine Vielzahl von Songs mit speziellen Trommeln und schwingenden Rhythmen ausgewählt, aber die Show ist mehr als nur Schlagzeug. Schlagzeug und Percussion aus Afrika, Asien und Lateinamerika werden mit den Klängen des DJs, mit mystischer, orientalischer Percussion und mit Gesang kombiniert. Eine heiße und aufregende Leistung!
4Beat Musiker
Gianna Tam (aus Suriname) war Bandmitglied von Drums United, Drumix! und Van Merwijks Music Machine und tourte um die Welt in den Niederlanden.
Vernon Chatlein (aus Curaçao) spielt afrikanische und
Südamerikanische Percussion. Er spielt in vielen niederländischen Percussion- und Weltmusikensembles.
Alper Kekec (aus der Türkei) ist ein Virtuose auf orientalischer Percussion. Er spielt bei Drums United und ist Lehrer am Rotterdam Conservatory.
DJ Charlie (aus den Niederlanden) kümmert sich um die Tracks und Loops am Computer und wird auch rappen. Derzeit absolviert er die Produzentenausbildung an der Herman Brood Academy.
---
featured video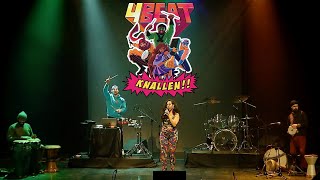 4Beat | Knallen! | De officiële 1 minuut promo