Lucas van Merwijk drums & Ilja Reijngoud trombone
KLOMP
Drummer Lucas van Merwijk saw the groundbreaking duo Misha Mengelberg / Han Bennink perform many times in the early 80s. The idea of forming such a duo in which you have unlimited freedom as a drummer never disappeared from his mind. During the last 30 years, Van Merwijk initiated countless projects in various compositions in the field of Cuban music, global groove, jazz and improvised music. Now, many years later, Lucas finally finds the ideal musical duo partner in trombonist Ilja Reijngoud; an urge for musical freedom, improvisation and experiment. A completely new, self-willed and brilliant musical adventure is the result.
Ilja Reijngoud | trombone
Ilja Reijngoud recorded and played with Tom Harrell, Ivan Lins, Jimmy Bosch, James Morrison, Scofield, Pat Metheny, Lester Bowie, Dori Caymmi and many others. He is permanent member of Jazz Orchestra of the Concertgebouw, The Houdini's, The Cubop City Big Band, Lucas van Merwijk Music Machine, The Jasper van 't Hof Quartet. He is leading various small groups under his own name. Teacher and bigband leader at both Amsterdam (CvA) and Rotterdam Conservatories (Codarts). Winner of Thelonious Monk Award, (USA 2003) and Edison Award, 2009.
He was four times featured soloist with the Metropole Orchestra so far. As composer and arranger the list of his commissioners is quite varied; they include the WDR bigband, the HR bigband, both orchestra's of the Royal Dutch Marine and Airforce, the Metropole Orchestra and the Cubop City BigBand. Soloists like Branford Marsalis, All Jarreau, Randy Brecker, Toots Thielemans, Jorgen van Rijen, Bart van Lier, Conrad Herwig, Branimir Slokar and Ben van Dijk played his music in recent years. He recorded over 100 cd's and 15 dvd's. His CD The Shakespeare Album was awarded an Edison Ilja plays a Kühnl & Hoyer trombone exclusively.
Lucas van Merwijk | drums
Drummer Lucas van Merwijk has been at the forefront of the European Jazz, Latin and percussion scene for over 30 years. He was elected 'Best Jazz Drummer' and 'Best Fusion Drummer' in the Benelux countries by the readers of dutch drum magazine De Slagwerkkrant many years running between 1993 and 2020.
After an intensive study of Afro-Cuban drums with drummer Oscarito Valdes (Irakere) in Cuba in the early eighties, Lucas van Merwijk has been active with a variety of projects. At the moment Lucas is the initiator and producer of numerous ensembles: the world-percussion group Drums United, Van Merwijks Music Machine (with a changing line-up every year) and the 20 piece salsa and Latin Jazz ensemble The Cubop City Big Band. All of these experiences have made him develop his own special style, a mix of Cuban, Brazilian and North American rhythms, characterized by powerful percussion and splendid technical skills.
Van Merwijk has been staff teacher for drums and percussion at the Jazz department of the Amsterdam Conservatory since 1986. In 2010 Lucas wins the Global Act Award 2010, for remaining continuously successful as a leading international Artist in world music over a long period of time. In 2013 he publishes his drum book World Beat, World Rhythms for Drum Set, followed by Advanced Coordination Studies (2017)
---
featured video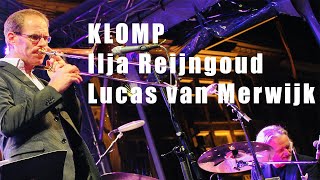 Ilja Reijngoud & Lucas van Merwijk | Klomp | Live at Blue Note