Gianna Tam
The queen of percussion and vocals!
Gianna Tam & La Banda
Gianna Tam & La Banda are on a mission and ready to explode onto every festival and stage with their innovative mix of Latin styles such as Zouk, Reggeaton, New York Salsa with contemporary pop and hip-hop beats. Led by the talented percussionist, singer, and drummer Gianna Tam, this live ensemble knows how to bring any audience to a climax with their fiery percussion rhythms and grooves. This is all fused together by the most prominent international Latin producers, arrangers, and musicians of the moment. After guest appearances with renowned artists such as Ladies of Soul, Candy Dulfer, Jett Rebel, Arp Frique, Sven Hammond, and Trijntje Oosterhuis, Gianna is now ready to rock with her own band. This is a spectacle you don't want to miss! Be challenged by the powerful lineup of Gianna Tam & La Banda and experience it at your festival or stage.
You don't often see a woman playing both drums and percussion and taking the lead vocals just as easily.
It is therefore not surprising that Gianna is often called "The Dutch Sheila E".
A big compliment but Gianna is Gianna Tam, singer, drummer and percussionist born in Amsterdam with DutchSurinamese roots. Gianna grew up in an environment with many creative, artistic and musical people and partly because of this her love for music came to the fore at a young age.
At the age of 16 she started playing in the various projects of her father, drummer Lucas van Merwijk. She toured not only in the Netherlands but also in South America, Asia, the United States, Canada and Europe.
During her studies at the conservatory, in addition to her drumming and singing scalest, her talent for songwriting also emerged, which resulted in two albums, 'Make Me Smile' and 'Polyphonic Heroine' and several singles.
During her musical career, Gianna has worked with artists such as Candy Dulfer, Jett Rebel, Bas Bron, Shirma Rouse, Gyptian, Edsilia Rombley, Trijntje Oosterhuis and The Ladies of Soul and sang with the Metropole Orchestra conducted by Grammy Award winning conductor Vince Mendoza.
---
featured video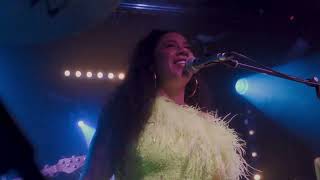 Gianna Tam & La Banda