The Story of New York's Spanish Harlem
a hot show of Latin music, song & dance
New York's 'Spanish Harlem' district is world-famous for its Latino sub-culture. The Latin Devils take the viewer on a journey through time from the 1920s to the present. Virtuoso music and dance are accompanied by a multi-vision with images from various eras. It brings you right into the middle of the backyards and club scene of 'Spanish Harlem'. A Latino sextet mastering all grooves, three singers and twelve award-winning dancers make this "hot show of Latin music, song & dance" an experience for all the senses.
A total of 20 performers in changing costumes move through the decades, from the glamorous 1920's to the soul and flower power era of the 60's, to the present day where hip-hop and break-dance thrive. Each decade has its own history, fashion, musical direction and of course dance styles: Mambo, Conga, Cha Cha Cha, Salsa or La Pachanga.
So not only is the audience well entertained, the zeitgeist is conveyed through a convincingly narrated storyline about the artists shaping the epochs and the life of the Latinos, successes or failures.
Harlem is named after the Dutch city of Haarlem. When in 1917 many immigrants from Puerto Rico settled here, the nickname "Spanish Harlem" developed. The immigrant Latinos came with the hope and the dreams of finding a better life there. In their luggage, they also brought with them a lot of music that shaped American culture remarkably over the next 100 years. Without this influence, jazz would never have become what it is today. Also the marriage of Soul and Gospel with Latin music produced a very special offspring named "Boogaloo" or "Latin Soul".
The show is a tribute to great international superstars such as Tito Puente, Tito Rodriguez, Celia Cruz, Duke Ellington, Charlie Parker, Thelonious Monk, Dizzy Gillespie, Carlos Santana, Eddie Palmieri, Mink de Ville and Marc Anthony. The LED multivision displays their images and the ever changing life of the Hispanic part of New York through the years.
From New York's Spanish Harlem, Latin Music began its triumphal march through the world. The districts cultural heydays may be over, wealthy yuppies are driving up rents which makes life difficult for Hispanic immigrants. However there is still a conspicuous Latino scene that clings to its cultural heritage and beloved district.
---

MEDIA QUOTES
The Latin Devils let the sun shine in the theater. Superhot Latin dance show
Dynamic theater show. 5 Stars
Great music and amazing dancers. Highly recommended
A very interesting and swinging piece of music history

---

LATIN DEVILS
Lucas van Merwijk (Netherlands) • drums, musical and artistic director
Nando Vanin (Colombia)• vocals
Gianna Tam (Surinam) • vocals and percussion
Ramon Mendeville (Spain)• vocals
Samuel Ruiz Aleman (Venezuela) • bass
Danny van Kessel (The Antilles) • piano
Juan Viloria (Venezuela) • percussion
Oscar Cordero (Venezuela) • trumpet
Yiannis Marinos (Greece) • trombone

Dancers: Miguel Arduin, Rianne Foekema, Quincy Ignacia,
Zunaira Choudhry, Serano Pinas, Jeffrey de la Fuente,
Joyce Silva Xavier, Chantal Kharag Ram,
Lola van Leeuwen, Kelly Bruyning
​​​​​​
Choreography • Miguel Arduin, Rianne Foekema
Director • Titus Tiel Groenestege, Lucas van Merwijk
Historical advice • Ira and Harriett Goldwasser
Production • Roosje den Hertog | Tam Tam Productions
Sound Technician: Frank Dijkstra | Don Franco Music
Light Technician: Emir Dijkstra | Don Franco Music
---
featured video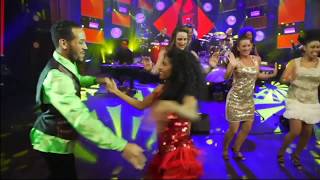 Latin Devils 13 second Teaser